Ballinger Thriftway
Recipes
https://www.ballingerthriftway.com/Recipes/Detail/356/Slow_Cooker_Orange_Pumpkin_Custard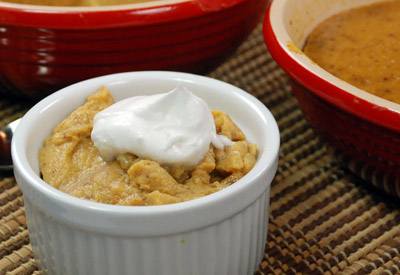 Slow Cooker Orange Pumpkin Custard
Yield: 8 servings
Preparation Time: 10 minutes; Cooking Time: 2 hours
Ingredients
3

eggs, slightly beaten

1
cup

pumpkin, canned solid pack pumpkin or cooked

1/2
cup

granulated sugar

1/2
teaspoon

ground cinnamon

1/8
teaspoon

ground cloves

1/8
teaspoon

ground nutmeg

1/4
teaspoon

grated orange peel

1 1/2
cups

(12 ounce can) evaporated milk

Whipped Topping
Directions:
In a medium bowl, combine eggs, pumpkin, sugar, cinnamon, cloves, nutmeg and orange peel; stir in evaporated milk.

Spray a 1- quart oven proof casserole dish (or two smaller oven proof dishes) with nonstick cooking spray; fill with pumpkin mixture and cover tightly with foil. Place dish(es) in slow cooker. Pour warm water around dish(es) to measure 1- inch deep.

Place lid on slow cooker and cook on the high-heat setting until knife inserted into center of the custard comes out clean; about 1 3/4 to 2 hours. Serve custard warm or cold topped with whipped cream.
Photo and styling by Webstop
Please note that some ingredients and brands may not be available in every store.
Ballinger Thriftway
Recipes
https://www.ballingerthriftway.com/Recipes/Detail/356/