Ballinger Thriftway
Recipes
https://www.ballingerthriftway.com/Recipes/Detail/1704/Beef_Confetti_Taco_Salad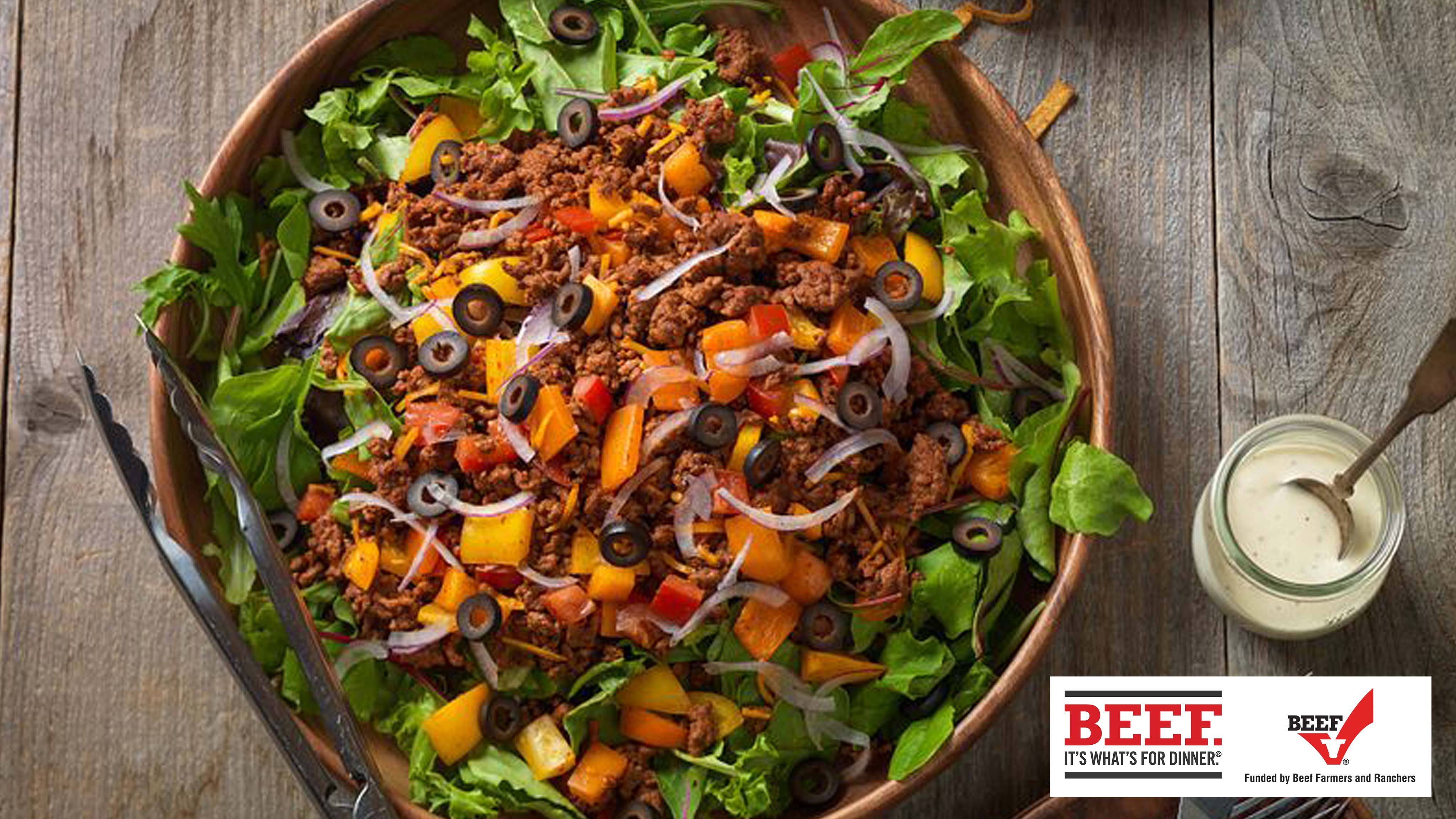 Beef Confetti Taco Salad
Enjoy this salad at home on Taco Tuesday or any night of the week. Your favorite taco ingredients are deconstructed and served up on a salad. No taco shell needed. This Beef. It's What's For Dinner. recipe is certified by the American Heart Association®.

Yield: 4 servings
Preparation Time: and Total Time: 30 min
Ingredients
1
pound

ground beef (96% lean)

2/3
cup

salsa

1/2
cup

low fat shredded Cheddar cheese

1

medium tomato, chopped (about one cup)

8
cups

mixed salad greens

1/2
cup

diced bell pepper

1/4
cup

thinly sliced red onion

sliced ripe olives, optional

prepared Ranch or French dressing, optional
Nutrition Facts
Yield: 4 servings
Approximate Nutrient Content per serving:
Calories:
221
Calories From Fat:
54
Total Fat:
6.7g
Saturated Fat:
3.2g
Cholesterol:
79mg
Sodium:
571mg
Total Carbohydrates:
8.1g
Dietary Fiber:
3g
Protein:
30.9g
Directions:
Heat large nonstick skillet over medium heat until hot. Add Ground Beef; cook 8 to 10 minutes, breaking into 3/4-inch crumbles and stirring occasionally. Pour off drippings. Stir in salsa; cook 2 minutes. Remove skillet from heat; keep warm.

Cook's Tip:
Cooking times are for fresh or thoroughly thawed ground beef. Ground beef should be cooked to an internal temperature of 160 degreesF. Color is not a reliable indicator of ground beef doneness.

Line 4 plates with salad greens. Divide beef mixture among 4 plates. Top beef with cheese, tomato, pepper and onion. Garnish with olives and dressing, as desired.

Cook's Tip:
Optional Toppings: sliced ripe olives, prepared ranch or French dressing
SAFE HANDLING TIPS:
Wash hands with soap and water before cooking and always after touching raw meat.

Separate raw meat from other foods.

Wash all cutting boards, utensils, and dishes after touching raw meat.

Do not reuse marinades used on raw foods.

Wash all produce prior to use.

Cook beef until temperature reaches 145 degrees F for medium rare steaks and roasts 160 degrees F for ground beef.

Refrigerate food promptly.
Please note that some ingredients and brands may not be available in every store.
Ballinger Thriftway Recipes
https://www.ballingerthriftway.com/Recipes/Detail/1704/