Ballinger Thriftway
Recipes
https://www.ballingerthriftway.com/Recipes/Detail/8107/Caprese_Chicken_with_Balsamic_Reduction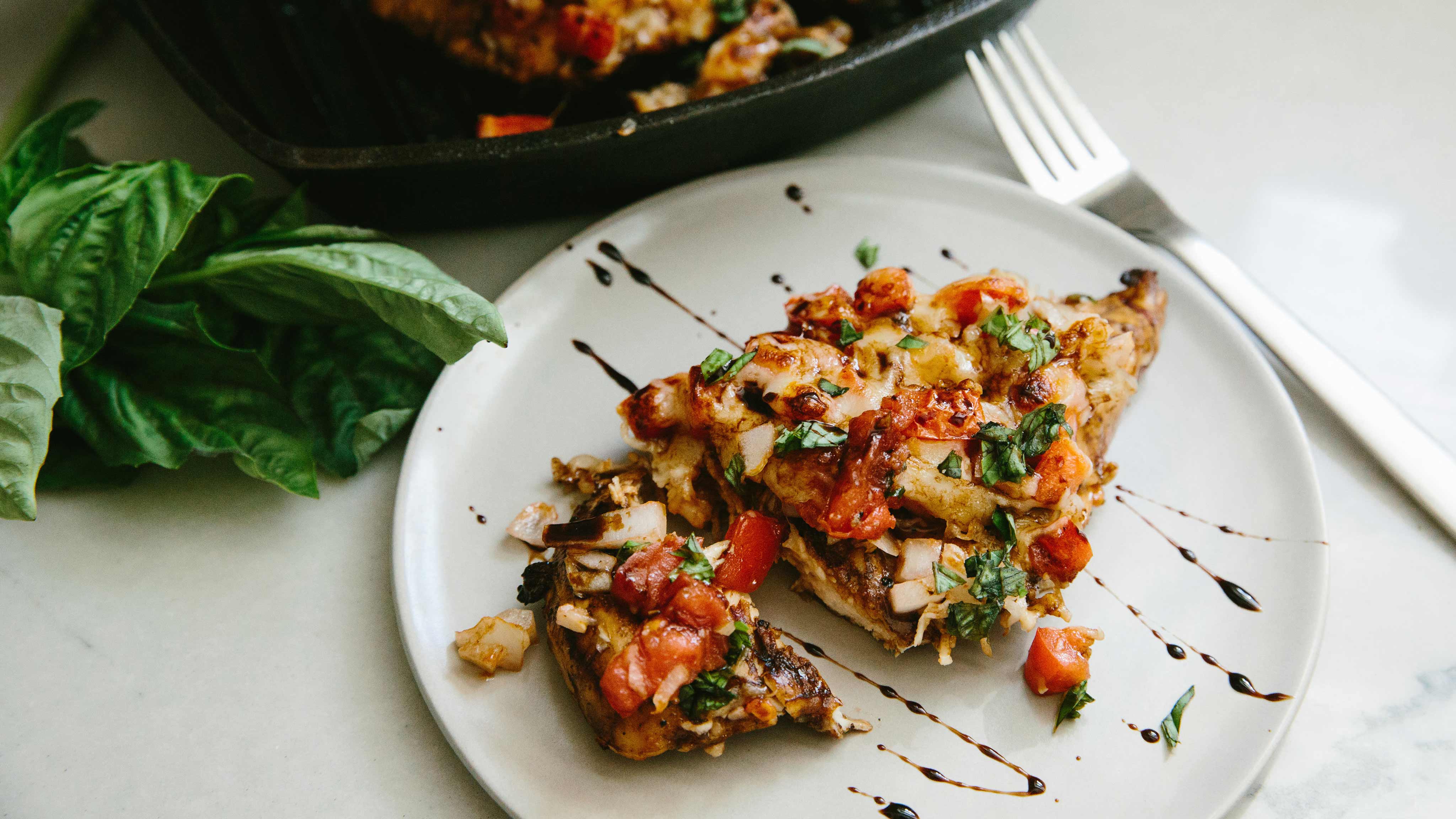 Caprese Chicken with Balsamic Reduction
Heart Healthy; Gluten Free
Yield: 6 servings
Preparation Time: 20 min; Cook: 45 min
Ingredients
1.5
pounds

chicken cutlets

2
tablespoons

olive oil, divided

1
cup

balsamic vinegar, plus 1/4 cup for marinade

4
cloves

garlic, minced

pinch of salt and pepper

1/4
cup

honey

6

medium roma tomatoes, diced

1/2

medium onion, diced

1
cup

part skim mozzarella, shredded
Nutrition Facts
Yield: 6 servings
Approximate Nutrient Content per serving:
Calories:
279.3
Calories From Fat:
117
Total Fat:
13g
Saturated Fat:
4.2g
Cholesterol:
75mg
Sodium:
161.9mg
Total Carbohydrates:
10.3g
Dietary Fiber:
1.2g
Sugars:
6.9g
Protein:
31.4g
Directions:
Place the chicken in a zip lock bag along with 1 tablespoon olive oil, 1/4 cup balsamic vinegar, 2 cloves minced garlic, and a pinch of salt and pepper. Massage the chicken, mixing everything around to make sure the chicken is fully coated. Refrigerate for at least 30 minutes prior to cooking.

While the chicken is marinating, make the balsamic reduction. Stir the remaining 1 cup balsamic vinegar and honey together in a small saucepan over high heat. Bring to a boil, reduce heat to low and simmer until the vinegar mixture has reduced to about 1/3 of a cup, about 15 minutes. Set the balsamic reduction aside to cool.

Combine the tomatoes, onion, remaining 2 cloves of garlic and 1 tablespoon of olive oil in a medium bowl and set aside. Heat a cast iron grill pan to medium high heat and grill the chicken on each side until cooked through, about 7 to 10 minutes. While the chicken is cooking, turn the oven on to broil.

Top each piece of chicken with about 1/4 cup of the tomato bruschetta topping and about 1/4 cup of shredded cheese. Place the cast iron grill pan in the oven under the broiler. Cook until the cheese is fully melted, about 5 to 10 minutes. Drizzle with balsamic reduction before serving. Save extra balsamic reduction in airtight container for later use.

Note: if you do not have a cast iron grill pan, you can grill the chicken separately and place on a baking sheet in the broiler.
Photo and food styling by Webstop
Please note that some ingredients and brands may not be available in every store.
Ballinger Thriftway Recipes
https://www.ballingerthriftway.com/Recipes/Detail/8107/