Ballinger Thriftway
Recipes
https://www.ballingerthriftway.com/Recipes/Detail/8657/Blueberry_Cream_Cheese_Mini_Pies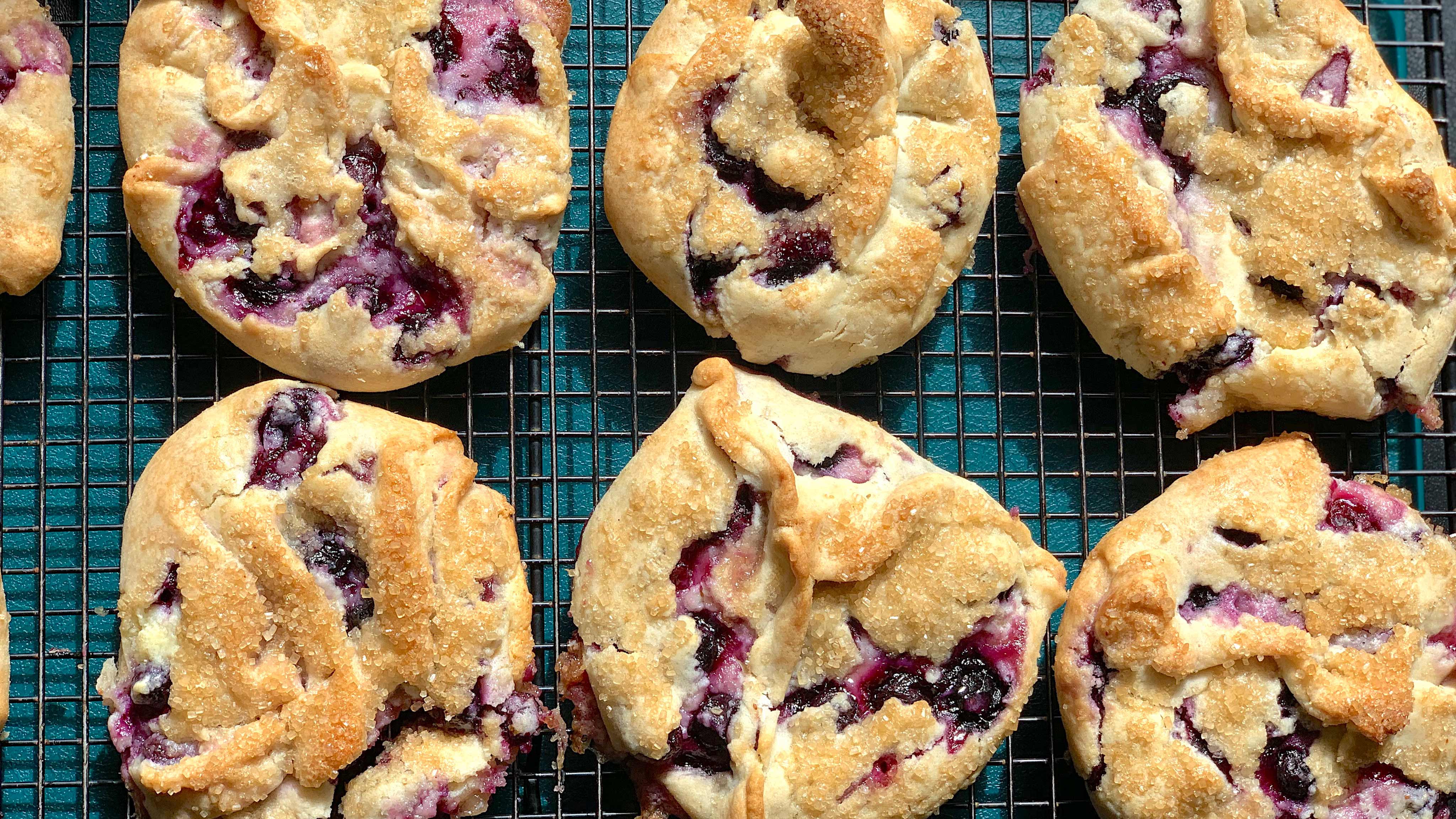 Blueberry Cream Cheese Mini Pies
These are incredibly delicious... especially if served warm with a heaping scoop of vanilla ice cream!
Yield: 11 mini pies
Preparation Time: 20 min; Cook: 20 min
Ingredients
1
package

(8 ounces) cream cheese, softened

3/4
cup

granulated sugar, divided

2
teaspoons

lemon zest

1

egg

1
package

(10 ounces) frozen blueberries

1
tablespoon

fresh lemon juice

2
tablespoons

all purpose flour

2
packages

(15 ounces each) refrigerated pie dough (you'll use three of the crusts)

2
tablespoons

heavy cream

turbinado sugar
Directions:
Preheat oven to 400 degrees F Line two baking sheets with parchment paper.

Remove three of the pie crust pouches and let sit for 15 minutes at room temperature. Refrigerate or freeze the fourth pie crust pouch for a future recipe.

Filling:
In a medium bowl stir together cream cheese, 1/2 cup of sugar, lemon zest and the egg until smooth.

In a separate bowl toss the blueberries with 1/4 cup of sugar, lemon juice and flour.

Pie Assembly:
Unroll and lay one pie crust onto a parchment lined cutting board. Cut into quarters.

Spoon 1 heaping tablespoon of the cream cheese mixture into the center of each quarter. Top with two tablespoons of the blueberry mixture.

Brush the edges of the dough with heavy cream. Bring opposite corners together and press to seal. Pull the two remaining corners upwards and seal all edges.

Repeat with remaining pie crust dough until all 11 pie crust quarters are sealed. Brush lightly with heavy cream and sprinkle heavily with turbinado sugar. Cut a small vent in the top of each pie.

Transfer each mini pie to the parchment lined baking sheets.

Bake for 20 to 25 minutes until golden brown rotating baking sheets halfway through. Note: the filling may bubble out of the vents.

Allow to cool on baking sheets for about 10 minutes, then transfer pies to a wire rack to completely cool.


Note: homemade pie crust will work just as well in this recipe. You'll need enough dough for three crusts.

Photo and food styling by Webstop

Please note that some ingredients and brands may not be available in every store.
Ballinger Thriftway
Recipes
https://www.ballingerthriftway.com/Recipes/Detail/8657/