Ballinger Thriftway
Recipes
https://www.ballingerthriftway.com/Recipes/Detail/6163/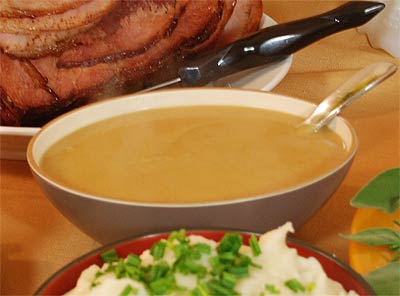 Giblet Gravy
Yield: 14 servings (1/4 cup)
Preparation Time: 1 hour, 15 min.
Ingredients
1
pkg.
neck, heart, gizzard from turkey giblets

1
medium carrot, thickly sliced

1
medium onion, thickly sliced

1
medium celery rib, thickly sliced

1/2
teaspoon
salt

1
turkey liver

3
Tablespoons
fat from turkey drippings

3
Tablespoons
all purpose flour

1/2
teaspoon
salt

Pepper to taste
Nutrition Facts
Yield: 14 servings (1/4 cup)
Approximate Nutrient Content per serving:
Calories:
47
Calories From Fat:
27
Total Fat:
3g
Cholesterol:
4mg
Sodium:
193mg
Total Carbohydrates:
4g
Protein:
1g
Please Note: Nutritional values listed may vary from final results depending on actual measurements, products and brands used to prepare the recipe.
Directions:
1. In a 3-quart saucepan, over high heat, place neck, heart, gizzard, vegetables and 1/2 teaspoon salt in enough cold water to cover. Heat to boiling. Reduce heat to low; cover and simmer 45 minutes.

2. Add liver and simmer 15 minutes longer. Strain broth into a large bowl; cover and reserve broth in the refrigerator.

3. To make gravy, remove cooked turkey and roasting rack from the roasting pan. Strain poultry drippings through a sieve into a 4-cup measuring cup.

4.Add 1 cup giblet broth to the roasting pan and stir until the crusty brown bits are loosened; pour the deglazed liquid/broth into cup with drippings. Let the mixture stand a few minutes, until the fat rises to the top.

5. Over medium heat, spoon 3 Tablespoons fat from the poultry drippings into a 2-quart saucepan. Whisk flour and 1/2 teaspoon salt into the heated fat and continue to cook and stir until the flour turns golden.

6. Meanwhile, skim and discard any fat remaining on top of the poultry drippings. Add remaining broth and enough water to the poultry drippings to equal 3-1/2 cups.

7. Gradually whisk in warm poultry drippings/broth mixture. Cook and stir, until gravy simmers and is slighty thick. Season to taste.
Recipe Source The National Turkey Federation
Photo and food styling by Webstop
Please note that some ingredients and brands may not be available in every store.
Ballinger Thriftway Recipes
https://www.ballingerthriftway.com/Recipes/Detail/6163/